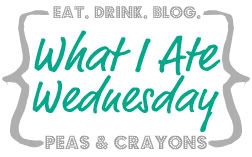 I DID manage to complete my long run on Monday. 19km. It was hard. I was definitely slower than I was pre-wisdom-teeth-removal. Such as life though right? I will build the speed and strength and stamina back up. I know that already. Just as I know that I will be able to finish the Woody's half marathon!! My plan is to do another 8km run on Thursday ad my final 5km run on Sunday as my Taper. I will take 3 active rest days (walking/elliptical-ing) on Thursday-Saturday, and then, on May 20th, I will run my little heart out. I am so excited to be doing a race in Red Deer. And I will be doing it with my favorite work out buddy Danielle!! Such an honor. I know she will be faster than me, but at least she can watch me cross the finish line haha ;)
Yesterday was Matthias's 25th birthday! A big one! I got up at 5:30am to make him French Toast and Grilled Banana for Breakfast and then I set to work baking this baby: Peanut Butter Chocolate Swirl Cheesecake with a Banana CoolWhip Topping. I didn't really follow a recipe. I just knew the basic Cheesecake ingredients and subbed low fat plain yogurt for sour cream. Twas ahhhhmayzing. I could like on food that decadent! Haha
Another exciting thing? Matthias and I put an offer in on our
Perfect Home
tonight! Will update when we know more. OH. And I got a job at the Remand Center! YAHOO!!! :) Awesome day.
Edited to Add:
WE CONDITIONALLY BOUGHT THE HOUSE!!! EEEEEEEEEEEE!!!!!!
So here are my eats for today:
Breakfast;
Barbara's Spoonfuls, Banana, Strawb, Cherry Oikos, Sprinkle'o'chips
Lunch;
Luna Bar, Smoothie with Banana, Rasp, Almond Milk, and PB2
Snack;
Iced Coffee with Half and Half, Kiwi, and a bowl full of Honeydew
Dinner;
This is actually Matthias's plate because I forgot to snap a picture of mine. Same concept except mine was a closed sandwich instead of open faced. T.L.T.'s - Tempeh, Lettuce, Tomato and Salad
Dessert;
1 Square Chili Chocolate and a mini piece of a Key Lime Pie Reagan made.